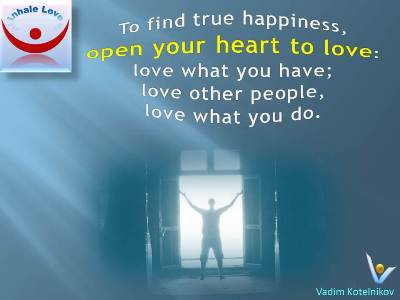 Love is one of the few things in this world that you have more of the more you give it away; but the more you refuse to give it, the less you'll have.
~ Yee Shun-Jian
To fear love is to fear life, and those who fear life are already three parts dead.
~ Bertrand Russell
A coward is incapable of exhibiting love; it is the prerogative of the brave.
Hatred does not cease by hatred, but only by love; this is the eternal rule.
~ Buddha

A loving person lives in a loving world. A hostile person lives in a hostile world. Everyone you meet is your mirror.
~ Ken Keyes
Neither a lofty degree of intelligence nor imagination nor both together go to the making of genius. Love, love, love, that is the soul of genius.
~ Wolfgang Amadeus Mozart
Love conquers all things; let us too surrender to love.
~ Virgil
Where there is no love, pour love in, and you will draw love out.
~ St. John of the Cross
One can live magnificently in this world if one knows how to work and how to love.
~ Leo Tolstoy

I have found the paradox that if I love until it hurts, then there is no hurt, but only more love.
The way to love anything is to realize that it might be lost.
~ G. K. Chesterton
One word frees us of all the weight and pain of life; that word is Love.
~ Sophocles

To find true happiness open your heart to love, love what you have, love other people, love what you do.
Let this be my last word, but I trust in thy love.
At the risk of sounding ridiculous, let me say that the true revolutionary is guided by feelings of love.
~ Che Guevara

The love we give away is the only love we keep.
~ Elber Hubbard

"How wise are they that are but fools in love!"
~ Joshua Cooke
"All mankind loves a lover."
– Emerson
"Fortune and love favor the brave."
– Ovid